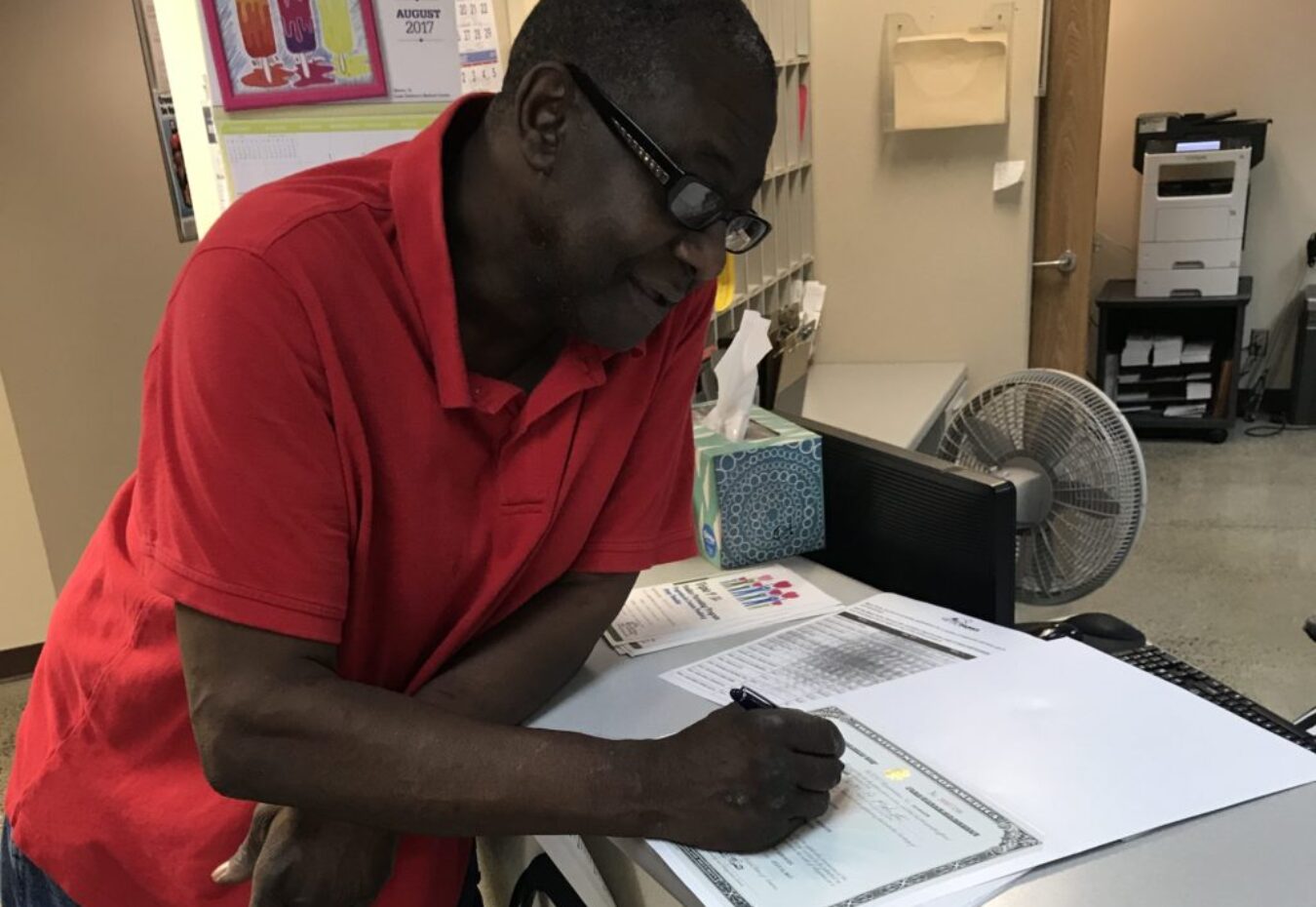 Trevor Modeste, 61, earns citizenship after 50 years with a green card.
Sixty-one-year-old Trevor Modeste of Tacoma earned his U.S. citizenship on July 31st, 2017 after not one, but two organizations told him it wouldn't be possible.
Modeste spent fifty years as a Permanent Resident after immigrating to the United States from Trinidad in 1967 with his parents.
"It's the longest time I've seen someone be a permanent resident before getting their citizenship," says Jesus Pinedo. Pinedo is a Department of Justice (DOJ) Accredited Immigration Specialist at Tacoma Community House, and Modeste's case manager.
Several factors played into Modeste's hesitancy to apply for adjusted status, starting with fears he developed as a child.
Winning the Lottery
Modeste's family earned U.S. visas through a lottery system run by the U.S. Embassy in Trinidad. He remembers his parents telling him to grab all the personal items he could carry, then entering a room with other families all waiting anxiously to see if someone would call their name.
His family was chosen. They had to leave immediately.
With visas in hand, Modeste and his parents were able to apply for permanent residency. However, he feared that if he ever returned to Trinidad someone would take his visa and give it to someone else.
Modeste lived with that fear for fifty years.
"Age and disability should not be a factor"
At 61, Modeste lives with illnesses that make it difficult to move, speak, and retain information. Prior to visiting TCH, two organizations told Modeste that he should not pursue citizenship. They said it would be too difficult for him to pass the civics test. The test includes a written and oral section and 100 test questions to study.
"Age and disability should not be a factor in whether you can get citizenship," Pinedo says.
Pinedo encouraged Modeste to tackle the study questions in manageable chunks of 10. Modeste would call Pinedo and recite his answers over the phone, proving that he studied.
"I told him, 'you better not be looking at those flash cards!'" Pinedo recalls, laughing.
Modeste has a feisty personality and penchant for jokes. He delivered the news of his citizenship by leaving a prank voice-mail on Pinedo's answering machine.
"I actually asked another client to step out [after I heard the message]," Pinedo says. "I thought something bad had happened. [Modeste's] message said 'I wish it were April Fool's Day, but something terrible has really happened.'"
Not terrible: just a puckish 61-year-old man overjoyed that he would finally be recognized as a citizen by the country he's called home for five decades.
Modeste is now determined to use his citizenship to the fullest. He is able to recite the number of days until the next presidential election when he can exercise his right to vote.
"That's the fire I see in my clients," Pinedo says.